GOLD GREEN-PEACH ORANGE DICHROIC SCHILLER OREGON SUNSTONE 5.32Ct RARE GEMSTONE!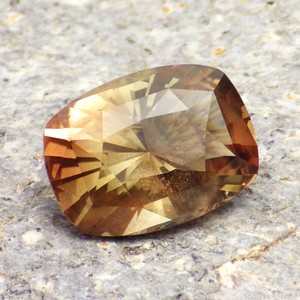 ---
 Ravenstein Mining Co.
TOP QUALITY EUROPEAN HAND FACETED GEMS AND FACET ROUGH MINING  & SALES
Gold Green-Peach Orange Dichroic Schiller OREGON SUNSTONE
Tectosilicate Al-Si Framework (Na,Ca)(Si,Al)4O8
SHIPPING  CHARGE for MULTIPLE ITEMS:  If you buy more than 1 item, please wait for our invoice before you pay. If you pay immediately, before we send the actual invoice, the system will automatically charge you $7.50 (USA domestic) or $33.50 (overseas) for every single item purchased. We must than credit this amount towards your next purchase or refund this unnecessary overpayment.
ARIZONA STATE TAX:  All Arizona retail customers will be charged a local AZ  sales tax..We ask all customers not to pay for their item until you receive an itemized invoice.
MATERIAL: Natural untreated FELDSPAR-CUPRIAN LABRADORITE   Var. Gold Green-Peach Orange Dichroic Schiller Oregon SUNSTONE 
LEGEND and LORE:  Gemmy Oregon Sunstone is used well with the first two chakra areas, as it is one to inspire sensuality, romance and sexuality. It also inspires freedom, originality, independence and luck. Sunstone is also used to dissipate fearfulness, to alleviate stress and to provide "luck" in games. Warms the heart, lifts/rejuvenates the spirit. Sunstone brings sunny disposition. Sunstone can be used for protection, grounding and life force.
ORIGIN: Pana Mine, Little Eagle Butte, Southern Oregon, USA
WEIGHT : 5.23 Ct
High-precision faceting and very rare color blend. Perfect for high-end jewelry/investment.
SIZE: 13.5 x 10.0 x 7.4 mm. Calibrated size: NO (The word "Calibrated" means that size of this gem was optimized to fit most inexpensive mass produced jewelry setting. Any non-calibrated gem can also be set into jewelry. Ask your local jeweler for details). For customers who are not familiar with metric system: 1 inch is 25.4 millimeters. 
CUT: Custom Designed Super Radiant CUSHION.  Master Cutter: Miro-EU.
COLOR :  Pastel Gold-Green Body with Strong Peach-Orange Dichroic Fire at Both Ends and Perfect Touch of A (-1) Copper Schiller. Color type and color intensity is gradually changing based on angle of view!  
CLARITY:   VVS2  Except for presence of pure copper Schiller in some gems.
CLARITY SCALE:  From best and cleanest with no visible inclusions (FLAWLESS) to heavily included (P3): FLAWLESS - VVS1 - VVS2 - VS1 - VS2 - SI1 - SI2 - P1 - P2 - P3
ESTIMATED RETAIL VALUE: 2,800 USD
CERTIFICATE of AUTHENTICITY:   We can supply a certificate of authenticity for a 25.00 USD flat fee.
HARDNESS:  6.5 to 7.2 on Moh's Scale (hardness of Oregon Sunstone is similar to or even greater than Amethyst and Citrine, suitable for jewelry wear)
TREATMENT: NONE  Natural color. We don't apply radiation, oiling, diffusion and/or heat treatment in order to make low grade material look more expensive! We offer 100% natural gems only, no exceptions.
NEGATIVE FEEDBACK:  Please, don't leave a negative feedback without giving us a fair chance to fix the problem. If you are unhappy with your purchase, simply contact us via system and we will correct the problem as soon as we possibly can.
GUARANTEE:  We are committed to your 100% satisfaction. If for any reason you are not satisfied with your gemstone purchase, you are entitled to a full credit or refund within 14 days of receipt. Shipping and handling fees are not refundable. NO REFUNDS or returns after the initial 14 day trial period.
SHIPPING:   USA: $7.50 USD plus $1.00 USD for every additonal item / OVER 30,00 USD VALUE  FREE SHIPPING  /  INTERNATIONAL : 33.50 USD – USPS First Class Package / USPS Priority Mail International. We do offer a 10 day combining period
SHIPPING TIME: All items are shipped within 1 business day.
ABOUT US:  At RAVENSTEIN we precisely hand cut all gems in our European Union cutting facilities from mine-direct sources of top quality, hand-selected rough. Our prices are strictly factory-direct. Our highly skilled master cutters facet all gems under strict German school "Idar Oberstein" and Bohemian school "Turnov" quality standards. We do our best to make each gemstone an original of the very highest market value.
MARKET VALUE OF NATURAL UNTREATED GEMS CAN ONLY INCREASE OVER TIME!
Please contact Ravenstein-Germany for more information about precisely cut Rare, Fancy and Energy gems from around the world
*** Nature's Beauty Crafted To Perfection *** ™